In politics, this year opened with the inauguration of several diverse women elected to U.S. Congress in January 2019.
In film, according to Miss-Representation, "women hit a record high as leads in 2019's blockbusters – with 40% featuring female protagonists. In movies with at least one director/writer, women made up 58% of protagonists."
So, we're on the right track, but need more of this, across all media and enterprises. Keep it up, dear creative and professional women!
Here are my favourite feminist media moments of 2019:
Sex Education, Season 1 (created by Laurie Nunn, Netflix original, January 2019) –British comedy-drama web television series, created by Laurie Nunn and directed by Ben Taylor and Kate Herron. The show follows "a socially awkward high school virgin Otis (Asa Butterfield), who lives with his sex-positive sex therapist mother Jean (Gillian Anderson). He teams up with the whip-smart bad-girl Maeve (Emma Mackey) to set up a clinic to deal with their fellow students' weird and wonderful sex and relationship problems." This is a witty, entertaining, and moving view on young people and sexuality.
Leaving Neveland (dir. Dan Reed, Amos Pictures, HBO, January 2019) and Opraph's Special After Neverland – The world will never be able to innocently listen to another Michael Jackson song again. This documentary shook up the music and cultural media this year and unleashed a backlash. But it is a very important step in the #metoo conversation, as now more and more men are coming forward against sexualized harassment, abuse, and violence, and against rape culture.
Captain Marvel (dir. Anna Boden, Ryan Fleck, Marvel Studios, February 2019) – Brie Larson plays Carol Danvers / Vers / Captain Marvel, an ex-U.S. Air Force fighter pilot and member of an elite Kree military unit called Starforce. She was imbued with superhuman strength, energy projection, and flight after exposure to Tesseract energy. Larson trained for nine months for the role, learning judo, boxing, and wrestling. Samuel L. Jackson plays her sidekick and comedic relief, Nick Fury, and Lashana Lynch plays Maria Rambeau, her oldest friends and a fellow Air Force pilot and a single mother. Like Larson, Lynch met with active duty airmen in preparation for the role. In particular, she met with pilots who are also mothers. Together they portray two strong women, who pass the Bechdel test by not talking about men, but kicking ass at getting things done and supporting each other instead.
Shrill, Season 1 (produced by Lorne Michaels, Hulu, March 2019) – based on the book Shrill: Notes from a Loud Woman by Lindy West, the show follows "Annie, described as an overweight young woman who wants to change her life — but not her body. Annie is trying to make it as a journalist while juggling bad boyfriends, sick parents, and a perfectionist boss, while the world around her deems her not good enough because of her weight. She starts to realize that she's as good as anyone else, and acts on it." While this show is often too self-deprecating and the heterosexual relationships are pretty toxic, the friendship between Annie (Aidy Bryant) and her roommate and best friend Fran (Lolly Adefope) makes this so much more fun to watch! The body positivity themes are also an important contribution. There is a great episode about a body-positive pool party that we all need more of in our lives!
The Good Fight, Season 3 (created by Robert and Michelle King, CBS, March 2019) – A year after the series finale of The Good Wife, an enormous financial scam destroys the reputation of young lawyer Maia Rindell and wipes out the savings of her mentor, Diane Lockhart. The two are forced out of the firm and join Diane's former employee Lucca Quinn, a prestigious African American–owned firm making waves by taking on Illinois police brutality cases. In season two, Diane becomes a named partner at the firm. The show deals primarily with the storylines of its three female leads – Diane, Lucca, and Maia – and contains considerable political and social commentary, exploring topical issues such as the alt-right, the #metoo movement, online harassment, and fake news. As well as starting again in a new firm with its own office politics to deal with, longtime Democrat Diane must navigate a world she hardly recognizes, becoming increasingly troubled by Trump-era politics and the actions of his administration.
Caroline Criado-Perez, Invisible Women: Exposing Data Bias in a World Designed for Men (March 2019) – If you only read one book this year, make it this one. Such important – and disturbing – research that explains everything that is wrong with our world. Imagine a world where your phone is too big for your hand, where your doctor prescribes a drug that is wrong for your body, where in a car accident you are 47% more likely to be seriously injured, where every week the countless hours of work you do are not recognized or valued. If any of this sounds familiar, chances are that you're a woman. The research in this book shows us how, in a world largely built for and by men, we are systematically ignoring half the population. It exposes the gender data gap – a gap in our knowledge that is at the root of perpetual, systemic discrimination against women, and that has created a pervasive but invisible bias with a profound effect on women's lives. From government policy and medical research, to technology, workplaces, urban planning and the media, this book reveals the biased data that excludes women. In making the case for change, this powerful and provocative book will make you see the world anew.
Amy Schumer, Growing (Netflix  special, March 2019) – Pregnant Amy Schumer is witty, and funny, and takes on gender injustice and body image with even more ferocity than usual. As Bian Logan wrote in his Guardian review, "Growing is a restatement of what Schumer does best: there are no new directions, but it proves that even on the precipice of motherhood, she is still the daddy of carnal standup."
Abby Wamback, Wolfpack: How to Come Together, Unleash Our Power, and Change the Game (April 2019) – This is the best book of (female) empowerment  and leadership I have read in a very long time! Based on her inspiring 2018 commencement speech to Barnard College's graduates in New York City, the two-time Olympic gold medalist and FIFA World Cup champion Abby Wambach shares her leadership experience. As the co-captain of the 2015 Women's World Cup Champion Team, she created a culture not just of excellence, but of honour, commitment, resilience, and sisterhood. She helped transform a group of individual women into one of the most successful, powerful and united Wolfpacks of all time. In her retirement, Abby's ready to do the same for her new team: All Women Everywhere. She insists that women must let go of old rules of leadership that neither include or serve them. She suggests:
· Make failure your fuel: Transform failure into wisdom and power.
· Lead from the bench: Lead from wherever you are.
· Champion each other: Celebrate each woman's victory.
· Demand the effing ball: Don't ask permission: take what you've earned.
In Abby's vision, we are not Little Red Riding Hoods, staying on the path because we're told to. We are the wolves, fighting for a better tomorrow for ourselves, our pack, and all the future wolves who will come after us. Watch her commencement speech and read this book, and give it to everyone you know (male, female, non-binary) as presents!
Fleabag, Season 2 (Phoebe Waller-Bridge, BBC and Amazon, April 2019) – Based on Waller-Bridge's one-woman show first performed in 2013 at the Edinburgh Festival Fringe, it was originally produced by Two Brothers Pictures for digital channel BBC Three in a co-production agreement with Amazon Studios. Waller-Bridge plays Fleabag, an angry, confused, sexually voracious young woman living in London. Andrew Scott joined the cast in the second series. The show premiered on 21 July 2016 and concluded its second and final series on 8 April 2019. The second season received 11 Primetime Emmy Award nominations and won six, including Outstanding Comedy Series, and Outstanding Lead Actress and Outstanding Writing for a Comedy Series for Waller-Bridge, with additional acting nominations for Clifford, Colman, and guest stars Fiona Shaw and Kristin Scott Thomas. The series received the Golden Globe Award for Best Television Series – Musical or Comedy. Every time she looks at the camera to break the fourth wall and to build an alliance with the audience who can see the absurdity of the situations she finds herself in, the show transcends itself.
Gentleman Jack (created by Sally Wainwright, BBC and HBO, April 2019) – Set in the year 1832 in Yorkshire, it stars Suranne Jones as landowner and industrialist Anne Lister. The series is based on the collected diaries of Lister, which contain over four million words and are written largely in secret code, documenting a lifetime of lesbian relationships.
Melinda Gates, The Moment of Lift (April 2019) – When you lift up women, you lift up humanity, and this book provides numerous case studies to prove it. Melinda shares lessons she's learned from the inspiring people she's met during her work and travels around the world. For the last twenty years, Melinda Gates has been on a mission to find solutions for people with the most urgent needs, wherever they live. Throughout this journey, one thing has become increasingly clear to her: if you want to lift a society up, you need to stop keeping women down. Melinda makes a great case for how birth control and reproductive health affect all facets of culture, economy and politics – from child marriage, to lack of access to contraceptives, to gender inequity in the workplace.
The Apollo (dir. Roger Ross Williams, HBO Documentaries, April 2019) –  A great documentary film, not only about the 85-year history of the iconic Apollo Theater in Harlem, but also about the history of black performers and their invaluable contribution to U.S. and world culture. The film starts and ends with footage following the Apollo's inaugural staging of Ta-Nehisi Coates' acclaimed personal, Pulitzer finalist, and National Book Award-winning book Between the World and Me (2015).
She's Gotta Have It,  Season 2 (Spike Lee, Netflix, May 2019) – Sadly, Netflix cancelled the show after its second season, which was less spectacular than the first, but still entertaining and engaged with some important cultural issues, such as: "How exactly does one balance the classic struggle between art and commerce without selling one's soul? How do you preserve black cultural output in the face of gentrification and other destructive sociopolitical forces?"
Wanda Sykes, Not Normal  (Netflix special, May 2019) – Wanda Sykes delivers a funny and sharp critique of our culture under Trump in her stand-up special and gives us much-needed laughter at the present state of the world. She opens with: "I believe everything happens for a reason! Because of Trump we sent more women to Congress than ever before!"
Knock Down the House (dir. Rachel Lears, Netflix original, May 2019) – documentary filmed around the primary campaigns of Alexandria Ocasio-Cortez, Amy Vilela, Cori Bush, and Paula Jean Swearengin – four progressive Democrats who ran for Congress in the 2018 midterm elections. The film had its world premiere at the 2019 Sundance Film Festival on January 27, 2019, and it was released on May 1, 2019 by Netflix. It is another example of a coping with the politics in the Trump era (made by women) that aims to provide some hope for the future that is undeniably female.
Pose (Season 2, June 2019) – I was a little late to discover this ground-breaking and culture-transforming show, but added the first season that premiered in summer 2018 to the list of "Things I missed the first time around" on last year's list. Created by Ryan Murphy, this show employs the most transgender people in front and behind the camera in TV history. The dialog (often written by Janet Mock) ranges from witty and sassy to mind- and heart-opening and will leave a lasting mark not only on television and media culture, but on LGBTQ+ culture as well. Here are some of the highlights from the first two seasons: S1 E1: Blanca Evangelista to Damon: "When you get rejected by your mother and your father, you're always out there looking for someone to replace that love you've missing." SAME EPISODE: Blanca to Damon's dance teacher, trying to convince her to let him audition for the dance school after the deadline has passed: "Do you know the greatest pain a person can feel is? The greatest tragedy a life can experience? That is having the truth inside of you and you not being able to share it. It is having a great beauty and no one there to see it. This young boy has been discarded and he is so young, he believed it has something to do with who he is. It's like cancer, it is going to eat at him from the inside until he starts to resent even the best parts of himself." S1, E8: Damon's dance teacher to Blanca: "Blanca, I've seen parents give their children the best training, the best education money can buy and yet their dancing career is going nowhere. You, however, have given Damon something that will allow him to soar in this world – self-worth. As long as he knows his life has value, he will be unstoppable." S2 E2: Electra introducing her new House: "We are The House of Wintour, named after the legendary editor of the sacred text that is Vogue. Quake in fear, children, Wintour is coming!" S2 E9: Electra to the transphobic bitch at the restaurant: "God may have blessed you with Barbies and a backyard with a pony in it and a boyfriend named Jake and an unwanted pregnancy that your father paid to terminate so you can go to college and major in being a basic bitch! None of these things make you a woman. (Takes a sip of water.) Your uniform of ill-fitting J-Crew culottes, fake Pearl's and 50-cents scrunchies can't conceal the fact that you do not know who you are. I know our presence threatens you, we fought for our place at this table and that has made us stronger than you will ever be. Now pick your jaw off the floor and g back to your clam chowder and shallow conversations. My girlfriends and I aren't going anywhere. (Shooing her off with her palms.)
Katherine Ryan, Glitter Room (Netflix Special, July 2019) – The Canadian feminist comedian, who moved to London England and is raising a daughter on her own shares her comedic observations on life, culture, gender, single parenthood from a feminist perspective. "Men are like dolphins, best enjoyed on holidays!"
Tiffany Haddish Presents: They Ready (Netflix special, August 2019) – Tiffany Haddish introduces her favorite comedians in a series of stand-up performances. By using her fame to create a platform for queer, underprivileged, and women of colour, and highlighting their individual strengths and professional comedians, Haddish created a supportive platform that brings more diverse voices to mainstream audiences.
Seberg (dir. Benedict Andrews, August 2019) – based on the life of Jean Seberg, the film stars Kristen Stewart in the title role. Seberg is best known for her French New Wave success in Jean-Luc Godard's Breathless (1960). This bio-pic focuses on her battling the harassment and illegal surveillance by the racist FBI under the toxic leadership of J.E. Hoover because of her social justice activism and support of the Black Panther Party. The film premiered at the Venice Film Festival on August 30, 2019, and was released in the United Kingdom on January 10, 2020, by Universal Pictures and in the United States on February 21, 2020, by Amazon Studios.
Greta Thunberg's Speech at the U.N. Climate Action Summit (September 23, 2019) – This was the year of Greta, and it culminated with her passionate speech that unleashed a fear storm from all dumb climate crisis deniers who are afraid of the truth and of a 16-year-old girl knowing and doing better than they ever will. "This is all wrong," she said in her moving speech, "I shouldn't be up here. I should be back in school on the other side of the ocean. Yet you all come to us young people for hope. How dare you! You have stolen my dreams and my childhood with your empty words. And yet I'm one of the lucky ones. People are suffering. People are dying. Entire ecosystems are collapsing. We are in the beginning of a mass extinction, and all you can talk about is money and fairy tales of eternal economic growth. How dare you!" Indeed, how dare we! Do better!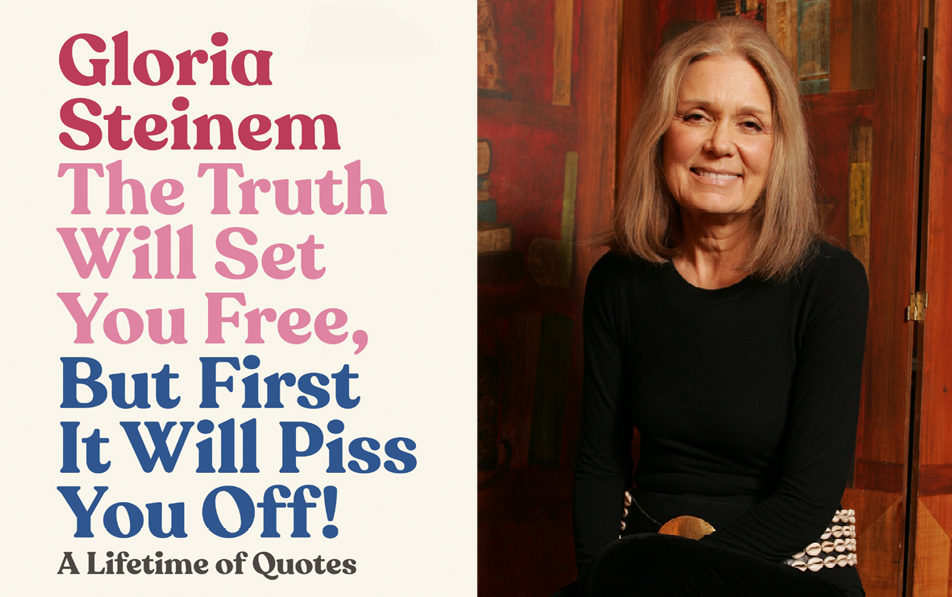 Gloria Steinem, The Truth Will Set You Free, But First It Will Piss You Off (Random House, October 2019) – For decades, and especially now, in these times of crisis, people around the world have found guidance, humor, and unity in Gloria Steinem's gift for creating quotes that offer hope and inspire action. I collected her wisdom in another blog post commemorating her 80th birthday, and I went to Seattle to see her live in conversation with Cheryl Strayed when she promoted her last book, My Life on the Road (2015). Covering topics from relationships ("Many are looking for the right person. Too few are trying to be the right person.") to the patriarchy ("Men are liked better when they win. Women are liked better when they lose. This is how the patriarchy is enforced every day.") and activism ("Revolutions, like trees, grow from the bottom up."), this is the definitive collection of Steinem's words on what matters most. Steinem sees quotes as "the poetry of everyday life," so she also has included a few favorites from friends, including bell hooks, Flo Kennedy, and Michelle Obama, in this book that will make you want to laugh, march, and create some quotes of your own.
Ronan Farrow, Catch and Kill (October 2019) – Pulitzer Prize-winning investigative reporter, Ronan Farrow, exposes serial abusers and powerful interests covering up the truth. In 2017, a routine network television investigation led Farrow to a story only whispered about: one of Hollywood's most powerful producers was a predator, protected by fear, wealth, and a conspiracy of silence. As Farrow drew closer to the truth, shadowy operatives, from high-priced lawyers to elite war-hardened spies, mounted a secret campaign of intimidation, threatening his career, following his every move and weaponizing an account of abuse in his own family. This is the untold story of the tactics of surveillance and intimidation deployed by wealthy and connected men to threaten journalists, evade accountability and silence victims of abuse – and it's the story of the women who risked everything to expose the truth and spark a global movement.
Harriet (dir. and screenplay by Kasi Lemmons, November 2019) – Premiered at the Toronto International Film Festival on September 10, 2019, and was theatrically released on November 1, 2019. Cynthia Erivo was nominated for a Golden Globe for her performance, and "Stand Up" (by Joshuah Brian Campbell and Cynthia Erivo) was nominated for best song.
The Morning Show (created by Jay Carson, Apple TV, November 2019) – drama television series starring Jennifer Aniston, Reese Witherspoon, and Steve Carell, that is inspired by journalist Brian Stelter's book Top of the Morning: Inside the Cutthroat World of Morning TV.  Alex Levy anchors The Morning Show, a popular news program broadcast from Manhattan on the UBA network that has excellent viewership ratings and is perceived to have changed the face of American television. After her on-air partner of 15 years, Mitch Kessler, is fired amidst a sexual misconduct scandal, Alex fights to retain her job as top news anchor while sparking a rivalry with Bradley Jackson, a haphazard field reporter whose series of impulsive decisions bring her into a new world of TV journalism.  #MeToo campaign
Dickinson (created by Alena Smith, Apple TV, November 2019) – comedy-drama series about Emily Dickinson, created by Alena Smith and produced for Apple TV+. Starring Hailee Steinfeld as Dickinson, the show portrays the historical characters in a fresh and new way for the new generations. Each episode dramatizes and imagines the creation of one of Dickinson's poems. "Let's get this party commenced!"
Lindy West, The Witches Are Coming (Hachette Books, November 2019) – "'Witch' is something we call a woman who demands the benefit of the doubt, who speaks the truth, who punctures the con, who kills your joy if your joy is killing," writes Lindy West. "A witch has power and power in women isn't likeable, it's ugly, cartoonish." From the moment powerful men started falling to the #MeToo movement, the lamentations began: this is feminism gone too far, this is injustice, this is a "witch hunt." Lindy West is the author of the bestselling memoir (and now Hulu TV series) Shrill. In her new incisive cultural critique, West urges readers to reckon with dark lies in the heart of the American mythos, and unpacks the complicated, and sometimes tragic, politics of not being a white man in the twenty-first century. She tracks the misogyny and propaganda hidden (or not so hidden) in the media she and her peers devoured growing up, a buffet of distortions, delusions, prejudice, and outright bullsh*t that has allowed white male mediocrity to maintain a death grip on American culture and politics-and that delivered us to this precarious, disorienting moment in history. West writes, "We were just a hair's breadth from electing America's first female president to succeed America's first black president. We weren't done, but we were doing it. And then, true to form, like the husband in a Lifetime movie hissing, 'If I can't have you, no one can' – white American voters shoved an incompetent, racist con man into the White House." We cannot understand how we got here, how the land of the free became Trump's America, without examining the chasm between who we are and who we think we are, without fact-checking the stories we tell ourselves about ourselves and each other. The truth can transform us; there is witchcraft in it.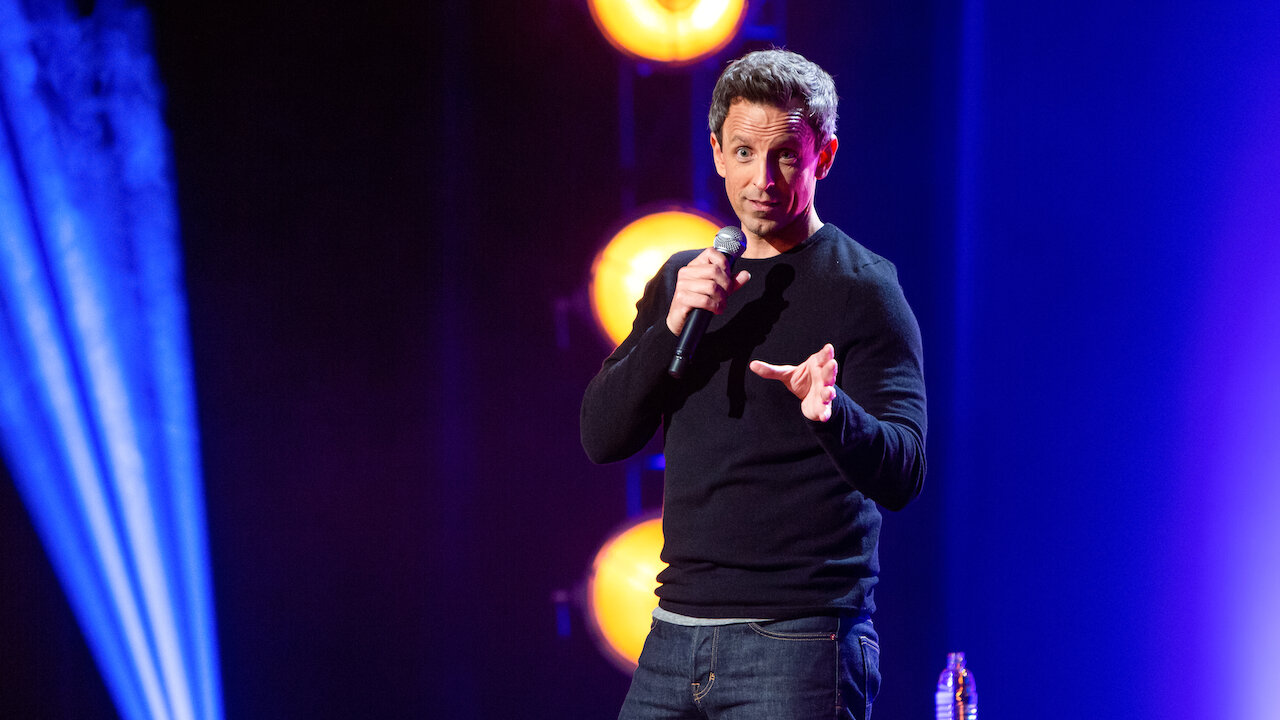 Seth Meyers, Lobby Baby (Netflix special, November 2019) – Seth Meyers has been telling many of the jokes that made up this stand-up special on his late-night show for a few months before the special came out. But taken all together they construct a moving and very funny narrative of marriage, kids, and the silly things we do and our partners generously put up with. In the special, he takes on the Catholic Church, Trump (even though Netflix provided a "skip politics" button for some people), and the conservative Christian Right. In the last part, Meyers turns to the point-of-view of his wife, as if she is talking about what life is like with him, and that is probably the funniest bit of the whole special.
Bombshell (dir. Jay Roach, Bron Studios, December 2019) – written by Charles Randolph, the film stars Charlize Theron, Nicole Kidman, and Margot Robbie, and is based upon the accounts of several women at Fox News who set out to expose CEO Roger Ailes for sexual harassment. Actors John Lithgow, Kate McKinnon, Connie Britton, Malcolm McDowell and Allison Janney appear in supporting roles. The project was first announced in May 2017 following Ailes' death. For their performances, Theron and Robbie were nominated for Best Actress – Drama and Best Supporting Actress, respectively, at the 77th Golden Globe Awards. Charlize Theron out-does herself once again, transforming herself, her face and her voice into the news anchor Megyn Kelly.
Little Women (dir. Greta Gerwig, Columbia Pictures, December 2019) – This is the year's best film for many reasons: it's beautiful, funny, moving, the cast is spectacular, a montage of the making of an author and the making of a book, and many more meaningful and brilliant elements. But for me, much like in Call Me By Your Name two years ago,  this film produced a cosmic shift in cinema and socio-cultural history, as well as the history of feminism with Jo March's (played masterfully by Saoirse Ronan) insight into the nature of strong and creative femininity:  "Women, they have minds, and they have souls, as well as just hearts," Jo tells her mother, Marmee (Laura Dern). "And they've got ambition, and they've got talent, as well as just beauty. I'm so sick of people saying that love is just all a woman is fit for. I'm so sick of it! But, I'm so lonely." This is the gist of all my conversations with all my smart women friends. And Greta Gerwig hit the nail on its head and created a touching and moving cinematic moment of truth about the central conflict for many women of of our time. Brava!
For previous years' lists, please see these links: Feminism 2015, Feminism 2016,  Feminism 2017, and Feminism 2018.
Things I missed the first time around: 
Ibram X. Kendi's book How to Be an Antiracist (August 2019) – examines his own internalized racism and disagrees with the prejudice plus power model of racism, and suggests models for anti-racist individual actions and systemic changes. His main argument is that there is an important distinction between "not racist" and antiracist. He explains: "What is the problem with being "not racist?" it is a claim that signifies neutrality: "I am not a racist, but neither am I aggressively against racism." But there is no neutrality in the racism struggle. The opposite of "racist" isn't "not racist." It is "antiracist." What's the difference? One endorses either the idea of a racial hierarchy as a racist, or racial equality as an antiracist. One either believes problems are rooted in groups of people, as a racist, or locates the roots of problems in power and policies, as an antiracist. One either allows racial inequalities to persevere, as a racist, or confronts racial inequalities, as an antiracist. There is no in-between safe space of "not racist." The claim of "not racist" neutrality is a mask for racism." (p.12) Thus, an antiracist is "one who is supporting an antiracist policy through their actions or expressing an antiracist idea" (p.15). He concludes the book, explaining that: "The source of racist ideas was not ignorance and hate, but self-interest." (p.218) This is a must-read for everyone!