Despite the disaster that this year turned into, it had some of the best feminist and anti-racist media to offer. 2020 was off to a pretty bad start with Australia on fire in January. Ricky Gervais made stupid jokes at the Golden Globes, where no female directors were nominated despite significant contributions that were ignored both by the Hollywood Foreign Press and the Academy Awards. To save face and clean up another PR disaster, the Oscars were shamed into hiring the very first female orchestra conductor, the Irish composer, Eímear Noone. Small step. Do better! And of course, the whole dumpster fire that is U.S. politics continued to make everyone depressed every day. But then things got even worse with the Corona virus locking down the whole world and killing off a large portion of a whole generation. As if that was not bad enough, after the U.S. police killed George Floyd and Breonna Taylor, protests against racism and police violence spread across the globe and brought the U.S. on the brink of civil war. Then RBG died of cancer. So, this year was exceptionally bad for the human species, but there was still some good intersectional feminist media that deserves to be watched and celebrated. So, here is what I managed to catch and review this year: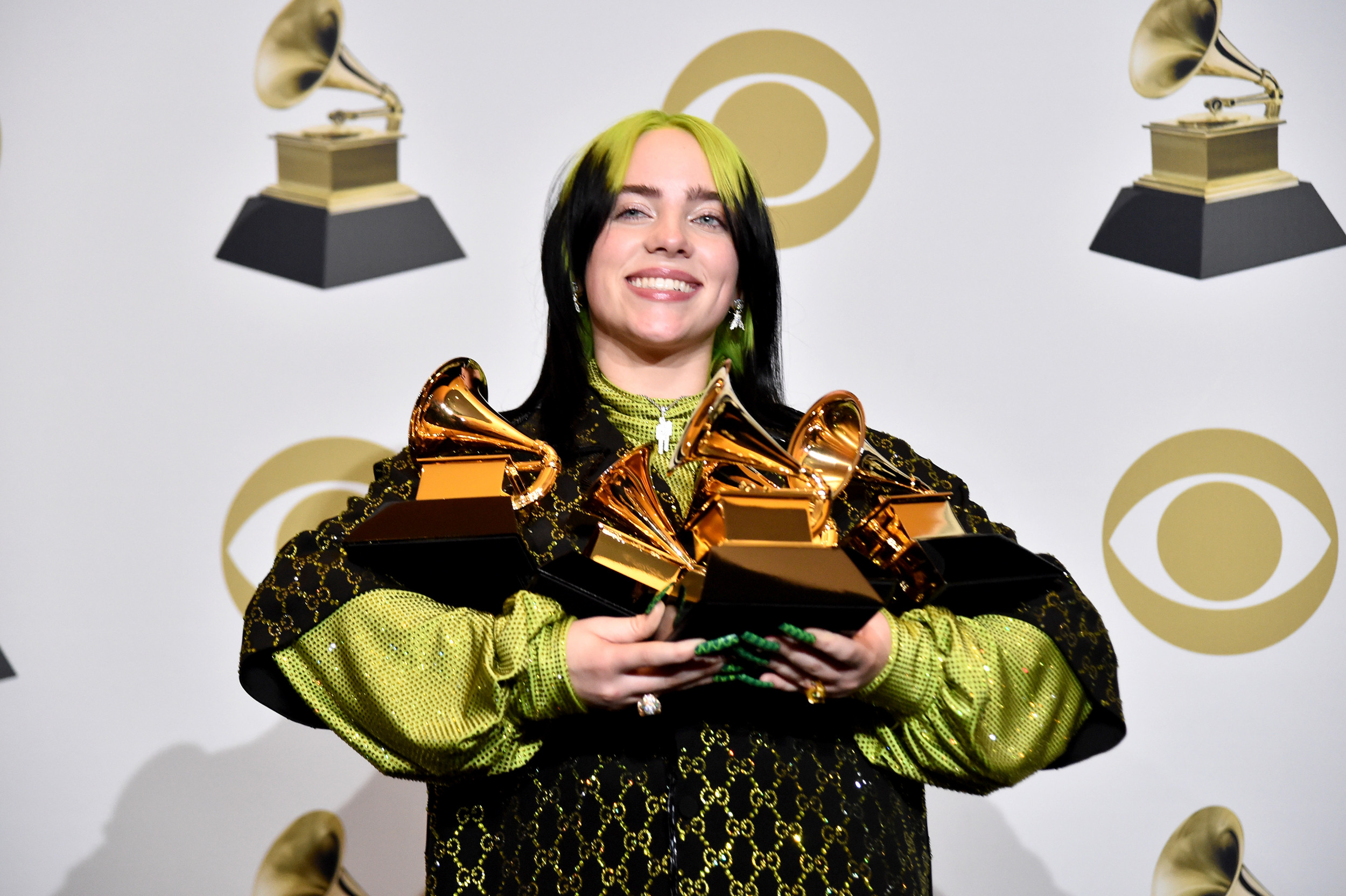 Billie Eilish (January 2020) – made history as the first woman and the second person ever to claim "the big four" awards, including Best New Artist, Record of the Year, Song of the Year, and Album of the Year at the 2020 Grammys. She is also the youngest artist (18) to ever win album of the year and the second-youngest person to ever win a Grammy. The Grammys have been notoriously unjust to artists of colour for years. This year, they were also mired in controversy over firing their first female President and CEO, Deborah Dugan, who was brought in to clean up the institution and then fired for bringing actual reforms, and who is now suing the institution for voting fraud and sexual harassment. Shitty institution, but Billie's album is truly great! 
Shrill, Season 2 (produced by Lorne Michaels and Lindy West, Hulu, January 2020) – based on the book Shrill: Notes from a Loud Woman by Lindy West, the second season picks up right where the first season left off. But the creator Lindy West's critique of dysfunctional patriarchy is noticeably sharper and funnier, both in the second season and in her second book of essays on mainstream culture and politics. She just keeps getting better as a cultural critic and a writer, and picks up on cultural nuances that often go by under the radar. In one scene, the protagonist Annie is force-hugged by a dude, who greets her with a nonchalant questions: "Can I hug you, or are you gonna "me-too" me?" and proceeds to hug her without consent. Learn something, dudes!
Christine Sinclair (January 2020) – Team Canada's soccer striker surpassed USA's Abby Wambach as the soccer player with the most international goals in the history of the sport, with 185 goals in 290 appearances. Sinclair scored twice in the first half against Saint Kitts and Nevis in the Women's Olympic Qualifying Championship, equaling and then passing Wambach's world record. Abby Wambach scored 184 goals in 256 appearances, passing Mia Hamm's mark of 158 for the most international goals record in the summer of 2013. (The men's record for most international goals is held by Iran's Ali Daei with 109.) Less than seven years later, Sinclair surpassed that mark, with Abby Wambach sending a moving message of congratulations through Instagram: "Mia Hamm – who grew up playing when professional women's soccer didn't even exist – achieved the record for most international goals scored in the world. She was my mentor, my friend – she was the leader of our Pack. In June 2013, I scored the goal to pass my hero's record. For the six and a half years that I've held the world record for most goals scored – by man or woman – I've been grateful-to-the-bones for the path the Pack before me tread so that I could spend my life playing the game I love. I've tried to live and play in a way honoring that legacy and privilege, so that little girls coming up after us will accomplish things we've only dreamed of. So, as a girl who grew up dreaming of winning Olympic gold for my country before women's soccer was even an Olympic sport, tonight I am celebrating. Tonight, I am celebrating the honor of passing that record, that legacy of our beautiful game, to the great Christine Sinclair: world-record holder for most international goals – man or woman – in history. Christine: History is made. Your victory is our victory. We celebrate with you. To every girl coming up in the Pack with a dream to do something that doesn't yet even exist: We believe in you to accomplish what we can't even yet imagine. Your Pack is with you. And history awaits you." And that's how it's done, people!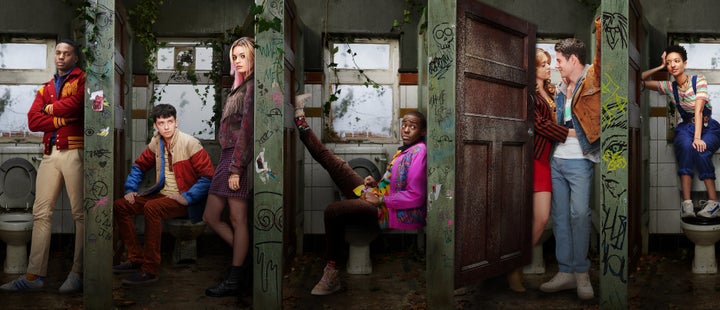 Sex Education, Season 2 (created by Laurie Nunn, Netflix original, January 2020) – This season picks up where season one left off and takes us back to our favourite awkward, funny, and witty teenagers. Episode 7 paid homage to The Breakfast Club with the girls getting detention in the library and becoming friends at the end, but we also see them actually starting to take good care of each other (like take the bus all together). And there is a little Call Me By Your Name homage, when Otis' mom finally realizes she is the relationship type. In the last episode, each of the kids confronts their parents and decides to do something brave as a result in their own lives. Otis has a moving conversation with his dad, who left him and his mother when he was little, asking him why, to which his dad replies because he is an "asshole," and Otis asks "how do I not become an asshole?" His dad tells him to hold on to his loved ones. In the same episode, as the school is putting on a space-erotica-themed musical of Romeo and Juliet, which is hilarious and a great finale for the show, there are several clever cuts between that spectacle and the different kids having serious moments with their parents, both providing closure for this season and setting up the next. The show creators sewed a lot of seeds this season but also gave you enough closure to feel satisfied with this season as a whole – the best balance! I can't recommend this show highly enough. It's funny, smart, moving, entertaining, and so important for moving so many conversations forward on gender, identity, sexuality, sex positivity, friendships, relationships. We need more shows like this!
Disclosure (dir. Sam Feder, Netflix, January 2020) – A great documentary that provides a critical look at Hollywood's depiction of transgender people and the impact of this on American culture. It features Laverne Cox, Susan Stryker, Alexandra Billings, Jamie Clayton, Chaz Bono, Alexandra Grey, Yance Ford, Trace Lysette, Jazzmun, Mj Rodriguez, Angelica Ross, Jen Richards, Elliot Fletcher, Brian Michael Smith, Sandra Caldwell, Candis Cayne, Jessica Crockett, Zackary Drucker, Lilly Wachowski, Ser Anzoategui, Michael D. Cohen, Zeke Smith, and Leo Sheng. It had its world premiere at the Sundance Film Festival on January 27, 2020. It was released on Netflix on June 19, 2020.
Me and White Supremacy (Layla F. Saad, January 2020) – structured as a 28-day guide targeted at white readers, the book aims to aid readers in identifying the impact of white privilege and white supremacy over their lives. It contains quotations, terminology definitions and question prompts. It received positive critical reception, entering many bestseller lists in June 2020 after a surge in popularity in the wake of the killing of George Floyd and subsequent protests.
Jennifer Lopez and Shakira at the Super Bowl Halftime Show (at Hard Rock Stadium in Miami Gardens, Florida, February 2, 2020) – The two co-headliners celebrated Latina power, with guest appearances by J Balvin, Bad Bunny, and Lopez's daughter, Emme Muñiz. This was only the third time that Latin music artists headlined the Super Bowl halftime show, after Gloria Estefan was a headliner in 1992 and in 1999. The performances included approximately 130 dancers, with about 30 little girls sharing the stage with JLo performing with her 11-year old daughter Emme. Beyoncé has set the Super Bowl bar very high, but these two did not disappoint. While many musicians refuse to perform at the Super Bowl until the NFL re-hires Colin Kaepernick back (who famously kneeled during the national anthem in protests against racism and in support of #blacklivesmatter), JLo and Shakira did their best to celebrate LatinX and immigrant cultures that make up the best parts of American culture, music, sports, and entertainment.
Untamed (Glennon Doyle, March 2020) – an honest memoir (her best yet) about marriage, divorce, sexuality, dating, families, and the cultural conditioning that makes women (and men) lose themselves in social expectations and become "tamed" into dysfunction.
The Good Fight, Season 4 (created by Robert and Michelle King, CBS, April 2020) – the first episode opens with an alternate reality in which Hillary is president, but there was never a Women's March and #metoo never happened, and all the rapists and harassers were not called out, convicted, or fired. A fascinating twist and perspective on the resilience and important work that has been done consistently and tirelessly through the dumpster fire of the Trump administration.
Mrs. America (created by Dahvi Waller, Hulu, April 2020) – tells the story of the movement to ratify the Equal Rights Amendment (ERA), and the unexpected backlash led by a conservative woman named Phyllis Schlafly. Through the eyes of the women of the era – both Schlafly and second-wave feminists Gloria Steinem, Betty Friedan, Shirley Chisholm, Bella Abzug and Jill Ruckelshaus – the series explores how one of the toughest battlegrounds in the culture wars of the 1970s helped give rise to the "Moral Majority" and the religious fanaticism in conservative politics, and forever shifted the U.S. political landscape.
Schitt's Creek, Season 6 (created by Dan Levy, Netflix, January 2015-April 2020) – this is the show that celebrates LGBTQ+ characters and storylines without any homophobia, portraying a world we all want, with so much humour and heart. Go Canada! 
Love Life (created by Sam Boyd, HBO Max, May 2020) – An anthology series that follows a different person each season from their first romance until their last romance. In June 2020, the series was renewed for a second season. A sober look at dating and relationships and the difficulties of building and sustaining a real connection. 
Becoming (dir. Nadia Hallgren, Netflix, May 2020) – partly based on Michelle Obama's bestselling memoir of the same name from 2018, the film followed the former First Lady through her 34-city book tour and features footage of Michelle's travels, talk-shows and her work during her tenure as the First Lady. Whenever you feel down or overloaded, and need hope and inspiration, watch this doc, as Michelle Obama shares glimpses into her life and work and gives hope for a better future. We all need that and she is superb at generating positive energy for change. She champions others and connects with everyone around her. And that is basically the meaning of life.
Betty (created by Crystal Moselle, HBO, May 2020) – based on Moselle's 2018 film Skate Kitchen, it includes most of the cast of the original movie, and focuses on the group's efforts to stand out in New York's predominantly male world of skateboarding. The six-episode series focuses on female friendship, empowerment, and support networks among Gen Z, and is a lovely glimpse into the intimate lives of some very cool skaters, who turn the term "Betty" (a female skater) into a badge of honour.  
Douglas (created by Hannah Gadsby, Netflix, May 2020) – live comedy performance written and performed by Australian comedian Hannah Gadsby, which debuted and toured in 2019. The show begins with Gadsby outlining the chronology of the show in a move she says to manage expectations. It begins with mundane observational humor, including mocking American culture. The main thrust of the show continues on topics first highlighted in her previous show Nanette such as her experiences with misogyny and as a lesbian woman and her autism diagnosis often through the lens of historical art. This show is even more powerful than her first one (if that is even possible) because she has perfected her comedy and made it even more wittier, funnier, and emotional! Can't wait to see more!  
I May Destroy You (created by Michaela Coel, BBC One and HBO, June 2020) – Arabella (Michaela Coel) is a Twitter-star-turned-novelist who found fame with her debut book Chronicles of a Fed-Up Millennial and is publicly celebrated as a Millennial icon. Whilst struggling to meet a deadline for her second book, she takes a break from work to meet up with friends on a night out in London. The following morning, she struggles to remember what happened to her, though recalls the events of the night with the help of her friends Terry (Weruche Opia) and Kwame (Paapa Essiedu). The suspenseful unfolding of the show also introduces the different characters in the main protagonist's life and the emotional consequences of trauma. The show examines with unprecedented honesty and emotional depth the daily reality and the psychological toll of dating in our rape culture. 
Hamilton (created by Lin-Manuel Miranda, Disney+, July 2020) – Live recording of the 2015 Broadway musical, inspired by the 2004 biography Alexander Hamilton by Ron Chernow. It was directed and produced by Thomas Kail and produced, written, and composed by Lin-Manuel Miranda. Hamilton was originally planned for theatrical release on October 15, 2021; however, in response to the COVID-19 pandemic, the film had a digital worldwide release on Disney+ on July 3, 2020. The original Broadway production of the award-winning musical that tells the story of Alexander Hamilton, first secretary of the treasury, blending hip-hop, jazz, R&B and Broadway styles, filmed from the Richard Rogers Theater in New York. Don't miss this cultural treasure! 
Black is King (created by Beyoncé, Disney+, July 2020) – Beyoncé managed to outdo Lemonade (2016) and take her work to a new level as an artist and culture-shaper. There is so much semiotic layering in this music film that books will be written in the years to come to interpret all the sartorial and symbolic richness. She also created a platform for African musicians and dancers, for black beauty (Naomi, Lupita, and Kelly), blending American and African cultures, pop cultures, music, fashion, story-telling, symbolism into a visually and musically stunning work of art. "I believe in another life for you" – she explores motherhood, love, faith, hope and empowerment at a time when black civil and human rights and decoloniality have reached a boiling point in mainstream media. "When it's all said and done, I don't even know my own native tongue, and if I can't speak myself, I can't think myself. And if I can't think myself, I can't be myself, but if I can't be myself, I will never know me. So, Uncle Sam, tell me this, if I will never know me, how can you?" Most importantly, she provides empowerment and inspiration for young people of colour: "You are welcome to come home to yourself. Let black be synonymous with glory," and for all generations to come: "Life is a set of choices. Lead, or be led astray. Follow your light, or lose it." She mixed songs and poetry with words of empowerment – this is Beyoncé's Hamilton ("I know my history, I did the research"), and she even takes it a step further in terms of cultural impact and empowerment of new generations (responding to #BLM and #metoo): "We have always been wonderful. I see us reflected in the world's most heavenly things. Black is king. We were beauty before they knew what beauty was." Inspired by the feminist classic film, Daughters of the Dust (Julie Dash, 1991): "child of dust, return to the river, your roots and your story will be reborn;" by Black Panther (Ryan Coogler, 2018) and "The Lion King" ("we're all connected in the great circle of life")" "You're a king, you know it, king already, already, you know it. Top everything, everything, you know it. King already, already, you know it. […] Crown on your head, got a king body, king already, my baby, you know it. […] Shine already, it's time already." She engages with black culture and literature, weaving in themes that authors like James Baldwin have explored in the 20th century: "You can't wear a crown with your head down."  As Baldwin said, "Our crowns have been bought and paid for. All we have to do is put them on our heads." And she dedicates the film to all the sons and daughters who are growing up watching the injustices occur: "Tik tok pretty baby, you're the key to the kingdom." The film ends with the lines: "Dedicated to my son, Sir Carter, and to all our sons and daughters, the sun and the moon bow for you. You are the keys to the kingdom." This empowering film will inspire people for generations to come! 
What the Constitution Means to Me (created by Heidi Schreck, Amazon Prime, September 2020) – based on her play that premiered on Broadway on March 31, 2019 at the Hayes Theater, with Schreck herself in the leading role. Over the course of the play, Schreck addresses themes such as women's rights, immigration, domestic abuse, and the history of the U.S. The play has received accolades such as a nomination for Best Play in the 73rd Tony Awards and a finalist spot for the 2019 Pulitzer Prize for Drama.
The Glorias (dir. Julie Taymor, based on My Life on the Road (2015) by Gloria Steinem) – The biopic explores multiple stages of Gloria Steinem's life, from when she was a little girl, to becoming a journalist in New York and starting Ms. Magazine, and becoming a feminist activist. The ending shows the real Gloria Steinem giving her speech at the Women's March on Washington in 2016, along with the solidarity marches all around the world. The final scene is so moving, reminding us how many people Gloria inspired over the course of her life. Alicia Vikinder and Julianne Moore do a great job portraying Gloria, but I still couldn't help thinking that Rose Byrne's portrayal in Mrs. America was more mesmerizing. 
For previous years' lists, please see these links: Feminism 2015, Feminism 2016, Feminism 2017, Feminism 2018, and Feminism 2019.
Thank you for reading!